The Sandsaver™, is a natural solution to Beach Erosion and the Beach Re-nourishment process. This technique of re-nourishment drastically reduces the cost of beach re-nourishment, based on simple conservative economics that show the modules can be used on either a semi permanent to permanent basis, contingent upon the scope of the re-nourishment project. The Sandsaver, is improved technology based on past proven technology, previously known as "The Sandgrabber". This technology successfully worked in multiple installations across The United States of America. The Sandsaver, improves upon the issues created by the low density issues that were created by The Sandgrabber. The Sandsaver modules work in two ways; First by breaking down the energy of the wave, thus reducing erosion. Second, by allowing the wave, which contains sand, to pass thru the tapered holes and onto the beach surface. When the tide or water retreats, it has to pass back through the smaller portion of the tapered end of the module, allowing the sand time to settle onto the beach and not back into the surf, thus building beach.
Sandsaver Installation: Swahili Beach Resort Diani Beach, Kenya
On January 12, 2020 a Sandsaver system was installed at the luxurious Swahili Beach Resort in Kenya. Plagued by beach erosion like many beach front properties, the owner of Swahili Beach Resort decided to combat his beach erosion issues by installing a Sandsaver system. Within 4 days or 7 tides it has been estimated that the system has already accumulated 1500 cubic yards of sand within and around the system.
Locals have taken to social media outlets exclaiming how beautiful the beaches are with recent sand accumulation and it is much nicer to walk along the beach without the worry of sharp corals cutting someone's feet.
We will post more information in the form of pictures and video soon as well as demonstrate the systems abilit to combat beach erosion and the accumulation of sand caused by the system.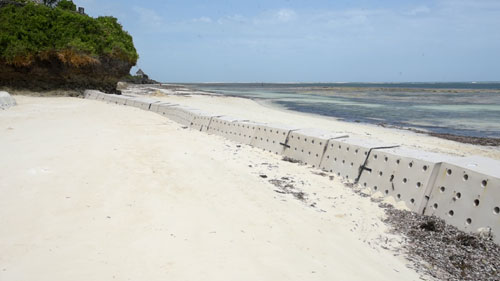 Sandsaver's installed on the Indian Ocean at Kenya's premier 5 star resort, Swahili Beach Resort
Sandsaver: A closer look!
Watch the video above to learn how the Sandsaver™ beach erosion barrier works, renourishes and offers protection against beach erosion issues. The Sandsaver, is one of the only dredging alternatives that offers a long term solution, that is portable and modular, thus allowing it to be used in multiple locations or multiple times in the same location if so desired. Manufactured via the rotational molding process, the durable polyethylene contruction of the Sandsaver™ modules will offer beach erosion protection for generations to come.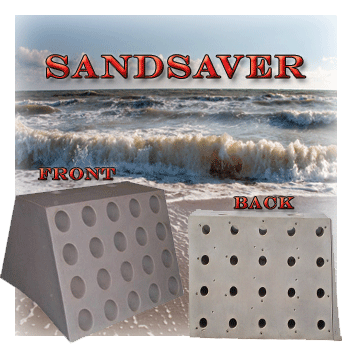 The Sandsaver™ is a patented, trademarked product, manufactured by
Rotational Molding leader, Granger Plastics Company
.