The Sandsaver, is a natural solution to the Beach Erosion and Beach Re-nourishment process.  This technique of re-nourishment drastically reduces the cost of Beach Re-nourishment, based on simple conservative economics that show the modules can be used on either a semi permanent to permanent basis, contingent on the scope of the Re-nourishment project.   The Sandsaver, is improved technology based on past proven technology, previously known as "The Sandgrabber".  This technology successfully worked in multiple installations across The United States of America.  The Sandsaver, improves upon the issues created by the low density issues that were created  by The Sandgrabber.  The Sandsaver modules work in two ways; First by breaking down the energy of the wave, thus reducing erosion.  Second, by allowing the wave, which contains sand, to pass thru the tapered holes and onto the beach surface.  When the tide or water retreats, it has to pass back through the smaller portion of the tapered end of the module, allowing the sand time to settle onto the beach and not back into the surf, thus building beach. 
Sandsaver gets USA install!
After many years of investigation, research and development Granger Plastics Company has a pilot installation of its revolutionary Sandsaver product. The Sandsaver is a natural solution to beach erosion. The Sandsaver is a rotationally molded polyethylene module which both reduces erosion and builds beach at the same time. This practically indestructible part can be used over and over again to rebuild eroding beaches, can be installed permanently for ongoing beach renourishment or can be relocated to nourish multiple sites.
Granger Plastics offers an environmentally friendly option that actually builds beaches back while discouraging erosion and eliminates the need for costly fossil fuel burning vessels. From the decades of research have gone into creating The Sandsaver, a product braced to revolutionize the way the World maintains its coastlines. Granger Plastics outlines the research behind this product and the impact it could potentially have on endangered coastlines on www.sandsaver.com. For years Granger Plastics has been battling resistance, extortion efforts and the political red tape of permitting agencies. In May of 2011 the first Sandsaver modules were installed on sand starved beaches of Arcadia on Lake Michigan. This installation will be monitored by a third party over the next three years. Read more on the pilot USA Sandsaver installation!
Sandsaver Pilot U.S. Install Video!
Sandsaver pilot U.S. install photos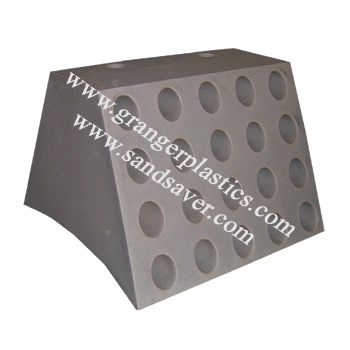 Sandsavers already building beach after approx. 48 hours
Sandsaver: A closer look!