Sandsaver
The Sandsaver™, is a natural solution to Beach Erosion and the Beach Re-nourishment process. This technique of re-nourishment drastically reduces the cost of beach re-nourishment, based on simple conservative economics that show the modules can be used on either a semi permanent to permanent basis, contingent upon the scope of the re-nourishment project. The Sandsaver, is improved technology based on past proven technology, previously known as "The Sandgrabber". This technology successfully worked in multiple installations across The United States of America. The Sandsaver, improves upon the issues created by the low density issues that were created by The Sandgrabber. The Sandsaver modules work in two ways; First by breaking down the energy of the wave, thus reducing erosion. Second, by allowing the wave, which contains sand, to pass thru the tapered holes and onto the beach surface. When the tide or water retreats, it has to pass back through the smaller portion of the tapered end of the module, allowing the sand time to settle onto the beach and not back into the surf, thus building beach.
Sandsaver: A closer look!
Watch the video above to learn how the Sandsaver™ beach erosion barrier works, renourishes and offers protection against beach erosion issues. The Sandsaver, is one of the only dredging alternatives that offers a long term solution, that is portable and modular, thus allowing it to be used in multiple locations or multiple times in the same location if so desired. Manufactured via the rotational molding process, the durable polyethylene contruction of the Sandsaver™ modules will offer beach erosion protection for generations to come.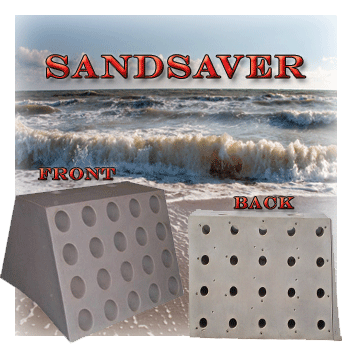 The Sandsaver™ is a patented, trademarked product, manufactured by
Rotational Molding leader, Granger Plastics Company
.
How to Stop Beach Erosion
The Sandsaver protected and re-built nearly 10,000 cubic yards of sand on a Lake Michigan beach, during a period of historically low water levels. Oceans and Gulfs typically have more wave energy and more sand in the system, thus allowing the system to provide more efficient and successful results in such applications.
More Details →
Take Action & START SAVING YOUR FAVORITE BEACH TODAY!
Cost effective beach dredging alternative technology
Contact Us!